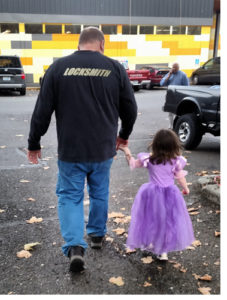 Hi, I am Adin Clark. My family and I have lived in the Seattle Green Lake area for over 12 years and was formerly a video game designer working on AAA first person video games. As a designer, it was my job to design and fix things. I love to tinker and take things apart. I worked for Warner Brother Games designing Lord of the Rings Games then I worked at Microsoft Designing Apps for the Hololens. In 2015, I decided to make a change in my life.
I met Howard Nevitt of Ravenna Locksmith through my wife who works with Howard's wife. I learned Howard was a locksmith and I thought "Wow that's a career of thinking and tinkering. Just what I like to do." I started riding along in his truck when I wasn't working and enjoyed every minute of it. Howard is a great teacher and mentor. I started apprenticing with him in 2015 before I left the game industry and have learned many valuable skills to excel in my locksmith career. Thank you, Howard, for everything.
I started AC Lock-N-Key in 2016 and have never looked back. I enjoy meeting people and helping them when they are in need which makes locksmithing a gratifying career.
I have the knowledge and expertise to help you with any problems you may have. I also have a great mentor to help me along the way.
My new quest is to become your favorite locksmith….